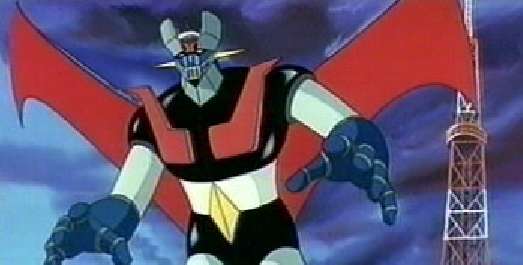 "THE EMPIRE OF THE DEVILS LAUNCHES AN ATTACK ON WORLD STAIRCASE, PUTTING TO IRON AND TO FIRE THE MAIN WORLD CAPITALS EMPLOYING QUITE 6 DIFFERENT DEMON ROBOT.
THE IT THROWS IT CONFRONTS WITH ONE SUCCESS OF THE MONSTERS ARRIVED ON THE JAPANESE TERRITORY, BUT THE BATTLE LEAVES IT WITHOUT ENERGIES. SUDDENLY IT APPEARS A MONSTER RESULTING FROM THE UNION OF FIVE DEMON ROBOT, THE SAME AUTHORS OF THE ATTACKS TO THE METROPOLIS OF THE LAND.
THANKS TO THE RELOADING OF LADY COMMAND, THROWS ROBOT CAN RETURN TO FIGHT AND TO HURL AGAIN IT'S ARM MORE DEVASTATING, DESTROYING THE ENEMY IN ONE THOUSAND PIECES."
god bless babelfish and italian fan-sites for japanese giant robo anime. this is pure gold.